Microsoft's next operating system wont be available for two more years. Thankfully, there has been screenshots updated frequently from Google's Image Search Engine. I call it Microsoft Windows XP 2, but it looks like it's going to be called Longhorn. Windows XP's version is 5.1.2600. On the screenshot you'll notice there is a build number that barely surpassed 4000. We already know that Longhorn will look and run a like WinXP. This new build minimizes holes in Windows to make it harder for hackers to get into your OS. Good, less crashes, hopefully! We might want to update soon after, because Microsoft is going to stop support for WinXP in 2008. WinXP will then be 7 years old.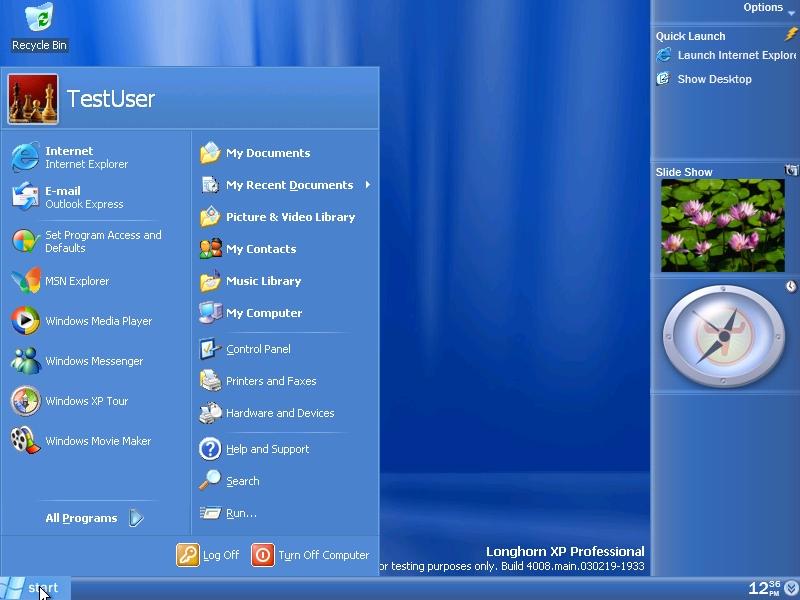 Microsoft next generation Windows (Longhorn) | Release date: TBA 2006
I use Windows as do many other people and I made a list on what I like see changed.
• I want to see Windows not crash or lag as much as it does when an application crashes
• Internet Explorer should have a popup blocker of it's own
• Internet Explorer should have tabs like Mozilla does
• Microsoft should put in a powerful firewall and antivirus for critical updates.
• Make it easier to connect to networks.
• Tell me when the network card isn't working by giving me popup, "your network card is not working"
• Add spellchecker to Wordpad
• Add support drivers for Nvidia and ATI videocards
• Send free service pack cds to subscribers. And also pay for shipping.
• Automatically add MS Tweak UI 2.0 to next Windows so users can make better use to virtual memory.
• Market OS with free Microsoft Game Studios videogame in same package for free. Like Halo, Age of Empires, Dungeon Siege
• Add support for Direct X 10.0!!!!
• Make Windows Media Player a lot like Winamp 5.0. Though it can be skinnable, it doesn't have an equalizer on it, or a very good playlist window.
• Add ACE, RAR, GZIP capability with Windows Zip Archiver
• Make the desktop skinnable so you can change the header, the taskbar, the tool bar, the title bar so background will have gif like graphics.
• Make Windows backwards compatible with Linux OS.
• Go entirely 32 MB instead of being backwards compatible with 16-bit applications. And we already know Longhorn with also be 64-bit ready.
• Add DIVX, VOB, MPEG 2 and 4 codec to Windows Media Player when installed.
• Add bigger window to video-chat size with MSN messenger
• Add Realplayer and Quicktime to OS without having to download it.
• Add voice recognition to Wordpad without having to pay for expensive alternative.
(Xeon 1.0 can be downloaded at emulator-zone.com and the required XISO 1.5 application can be downloaded at Yursoft.cjb.net. Yes man, you must extract the whole game to your harddrive.)
• Microsoft should develop a working Xbox emulator for Windows Longhorn with joystick support.
• Add cut down version of Frontpage with OS
• Add Voice-over-IP feature so I don't have to pay long distance charges when calling somebody!
• Bring back the Windows 98 scheduler
• Bring back drive defragmenter
• Have more options to clear hard drive from unneeded data. Such as registry cleaner, hard drive cleaner, option to delete programs your not using in that option under My Computer instead of having to go to Control Panel.
Oh yeah I had Bob over, I never had a friend over for weeks. Very lonely at home these past weeks. We played Unreal Tournament 2004. I kicked arse in that game. Good way to go frag and have good time. I set the bot difficulty to average so he could "get use" to game. After that, we played Sonic Pinball on Gamecube, it was entertaining though I sucked at it, and Winning Eleven 6 for Playstation 2. Bob won, Yugoslavia 1, USA 0. Then we went old school and took turns playing the oldie but classic Megaman 2 for NES. We beat Metal Man, and Flash Man, then we got tired of that. Because bob was kicking my butt when it was his turn so we came up with the idea off sticking Super Mario Bros. 3 in the system. Bob and I got to the part on the ship with the missiles. It was entertaining. Then we played Diablo. Bob had to set the IPX network setting because I don't know. When we were ready to die, I used Bobafett's Trainer and we both hacked our characters. It's didn't look like we were going to reach the end anyhow. Later that night, I just played 2 hours of Diablo 2. I made it too hell difficulty and rushed to Act 4 and my Bowazon is still at level 47. She's under powered at the moment though I have a feeling that I can kick some minon butt in next few playing days. I think she'll be better then average at level 65 or so. I have some 430 defense armor I wearing. And I have to wait 2 levels before I can wear some magic boots with 77+ defense.
And I got mad when the America's Army Operations download got corrupted when downloading it to my external harddrive at school. So I'm getting a CD sent to me. This will be the first time I get a tactical game to play. Once you play one of these games, they're all the same. Plus they're harder then most games. Games are suppose to be fun, but not really difficult for the casual gamer, I think. I don't know, it depends on the game. Some gamers play at the hardest setting until they can eventually beat the game. Some say that this sharpens playing skills, but I can not stand being killed all the time. I play games at normal setting.
That's about as much I can think of before my brain gets tired! I have to have some brain power left so I can hit the books (homework), and then have just enough to function in Diablo 2. Back in a few days to type some more!!!