Tim Kaine
is the former Chairman of the
Democratic National Committee
and exiting Governor of
Virginia
.
Tim Kaine
, entered the US Senate with the 2012 elections, as a (Virginia Democrat).
Background
Born in
Minnesota
and raised near
Kansas City
,
Tim Kaine
grew up working in his father's ironworking shop. A graduate of the University of Missouri-Columbia with a bachelor's in economics, Kaine later attended Harvard Law School where he earned his law degree. He took a year off during his law school education to work as a Jesuit missionary in Honduras, where he put his ironworking experience to use as the principal of a technical school.
Kaine practiced law for 17 years representing people who had been denied housing opportunities based on race or disability and has been recognized as a fair housing advocate by organizations around the country. Kaine also began teaching legal ethics at the University of Richmond Law School, which he has continued to do throughout his career.
Kaine's participation in politics began in 1994 when he was elected to the Richmond City Council. He went on to become mayor of Richmond four years later. During his two terms as mayor, Richmond saw a significant drop in the city's crime rate and began building the first new schools in a generation.
Following his tenure as mayor, he was elected Lieutenant Governor of Virginia and, in 2005, Kaine was elected Governor. During his term, the state was given a variety of honors including: Best Managed State in America, Best State for Business and a AAA bond rating for fiscal management. He left office with one of the highest popularity ratings of a large state governor in the country.
[1]
Arab American Institute's Virginia Candidates' Night
The
Arab American Institute
hosted its 15th candidates' night in northern Virginia on Sept. 30, 2001. The more-than-capacity audience crowded into the room, first to stand in allegiance with their country as
Amir Shallal
of Langley High School led them in reciting the pledge to the flag, then to hear what their Virginia candidates had to offer them. ity.
After a brief address by Congressman
Jim Moran
(D-VA), calling on Americans to be a model and to empower people, Democratic gubernatorial candidate
Mark Warner
discussed issues of the budget, education, transportation, and public safety—the latter of particular importance to Arab Americans in an atmosphere of anti-Arab and anti-Muslim backlash following the Sept. 11 attacks. In response to a question, Warner informed the audience that his press secretary was an Arab American, and promised that Arab Americans would be represented in his cabinet if he was elected. Running for lieutenant governor on the same ticket is Richmond Mayor and civil rights attorney
Tim Kaine
, who made the point that he had already been instrumental in changing the name of the "Mosque Theater" in Richmond to the "Landmark Theater," and that he would continue to work for civil rights for all.
[2]
Arab American Institute, 2011
The
International Institute of Islamic Thought
(IIIT) reported that former Virginia governor and Senate candidate
Tim Kaine
spoke at an event at which U.S. Muslim Brotherhood leader
Jamal Barzinji
was given a Lifetime Achievement award. According to the report:
Northern Virginia's Arab community gathered at its 23rd annual event in Tysons Corner on September 25th, 2011, with more than 300 leaders, activists and donors attending, and 46 democratic and republican politicians making their pitch for election or re-election to local and State offices. Also speaking at the event was former Governor Tim Kaine of Virginia who is running for the U.S. Senate. This 'Candidates Night' dinner, which had been a keynote event of the Arab American Institute for a number of years, is now organized by the political action committee New Dominion PAC. A highlight of the event was the Lifetime Achievement Award presented to Dr. Jamal Barzinji, vice president of International Institute of Islamic Thought. Dr. Jamal Barzinji was recognized for his leadership and accomplishments over a wide spectrum of activities in the American Muslim and Arab community as well as in educational initiatives and endeavors locally and internationally. Basim Mansour, president of Michael & Son Services Company of Alexandria, received the Outstanding Community Service Award at the dinner event. "[3]
Omeish/Muslim American Society controversy
In 2007 Democratic Gov.
Tim Kaine
was accused of being far too close to a Muslim group that allegedly has ties to Islamic terrorism and espouses radical views, according to two local delegates.
Kaine should move to put some distance between his administration and the
Falls Church
-based
Muslim American Society
, said Dels.
Todd Gilbert
, R-Woodstock, and
Clifford L. "Clay" Athey, Jr.
, R-Front Royal.
The controversy started when Kaine appointed Dr.
Esam Omeish
, the president of the society, to the Virginia Commission on Immigration. Gilbert wrote to Kaine, asking him to reconsider the appointment after seeing online videos of Omeish accusing Israel of genocide against Palestinians and exhorting Muslims to "the jihad way."
Omeish resigned less than a day later under pressure from Kaine.
But after some investigation, the delegates say the connections between Kaine and
Muslim American Society
appear to be deeper than just one appointment.
Kaine was the keynote speaker at the society's Freedom Foundation "Standing for Justice Dinner." He was photographed with leaders of the group, including Imam
Mahdi Bray
, the executive director of the foundation.
In an online video of a 2000 rally in Washington,
Abdurahman al-Amoudi
— who would later plead guilty to charges of funneling money from Libya to Saudi militants — took to the podium and declared his support for
Hamas
and
Hezbollah
.
"I have been labeled by the media in New York to be a supporter of Hamas. Anybody support this Hamas here?" al-Amoudi says in the video, drawing cheers from the crowd and fist pumps from
Mahdi Bray
.
"I wish the added that I am also a supporter of Hezbollah. Anybody supports Hezbollah here?" he asks, drawing more cheers and fist pumps.
"The governor shouldn't have been involved with this organization and its leadership," Gilbert said.
"If [Kaine] didn't know this stuff, now that he does know it, he should say he rejects what the leadership of this organization stands for and he's going to distance himself from it, and encourage other leading Dem-ocrats to do the same." Athey was less generous.
"It is clear that Governor Kaine and the Democratic Party sought the support of radical individuals who could turn out votes in his election. According to
Mahdi Bray
, the governor received that support," said Athey, referring to a story earlier this month in The Washington Times, in which Bray credited the Democrats' success in 2005 and 2006 to his organization.
"Ask
Jim Webb
what kind of impact we have," Bray said. "Ask the governor of Virginia what kind of impact we have. The Democrats' win hinged on the Muslim vote."
"I am not going to dignify the latest allegations by Dels. Gilbert and Athey with a comment," said Kaine spokesman
Kevin Hall
via e-mail. He also declined to comment on Bray's election-related statements.
Bray said Monday that he and others at the video weren't cheering for the terrorist organizations.
"The majority of the people they were kind of raising their hands, and kind of cheering, and so on because this was so uncharacteristic of al-Amoudi," Bray said. "We didn't know he had a problem with law enforcement. He was considered the pillar of the American Muslim community."
Bray said his gestures weren't in support of Hamas and Hezbollah.
"You saw me pumping my fists. You didn't see me raising my hands. If they had shown the audience, you would have seen people in the audience raising their hands and falling out laughing," he said. "For him to come and make these kinds of radical rants, no one took him seriously."
Bray said he does not support violence, and would have been more judicious in his reaction had the event happened after Sept. 11, 2001.
"There are some throwbacks. And I think that Gilbert and others are throwbacks to the old days" who want to "maintain the status quo. Maybe their district is not as diverse as Northern Virginia."
[4]
"Standing for Justice Dinner"
Governor
Tim Kaine
of
Virginia
gave the keynote address for the 5th Annual
Muslim American Society
(MAS) Freedom Foundation 'Standing for Justice Dinner'.
The governor, joined by members of his cabinet, spoke individually with Muslim community leaders during a special leadership reception. The reception was followed by the Freedom Foundation Award Dinner.
In an occasion marking the first public speech to a Muslim gathering by a Virginia governor, he acknowledged the civic work and civil rights accomplishments of the Freedom Foundation, and stressed the need for people of all faith traditions to work together to overcome intolerance and bigotry.
Imam Sheikh
Rashid Lamptey
of the
Muslim Association of Virginia
(MAV) gave a powerful inspirational address that stressed civic participation as an essential dimension of the Muslim faith and our contribution to the larger society.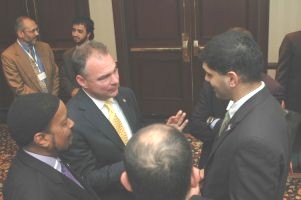 During the event
Tim Kaine
appeared alongside
Hamas
supporter
Mahdi Bray
.
The 2007 MAS Freedom Foundation awards and their recipients included:
Lifetime Achievement Award
The Freedom Foundation is the public affairs arm of the
Muslim American Society
(MAS), a national grassroots religious, social, and educational organization. MAS is America's largest grassroots Muslim organization with over 50 chapters nationwide.MAS Governor of Virginia Gives Keynote Speech at MAS Freedom Foundation Standing for Justice Award Dinner Date Posted: Monday, May 21, 2007]
2012 CLW Senate victories
2012
Council for a Livable World
Senate Victories were;
Tammy Baldwin
(D-WI),
Sherrod Brown
(D-OH),
Bob Casey
(D-PA),
Kirsten Gillibrand
(D-NY),
Martin Heinrich
(D-NM),
Heidi Heitkamp
(D-ND)
Mazie Hirono
(D-HI),
Tim Kaine
(D-VA),
Angus King
(I-ME),
Amy Klobuchar
(D-MN),
Claire McCaskill
(D-MO),
Chris Murphy
(D-CT)
Bernie Sanders
(I-VT),
Debbie Stabenow
(D-MI),
Jon Tester
(D-MT),
Elizabeth Warren
(D-MA) and
Sheldon Whitehouse
(D-RI).
[5]
The Council said of Kaine;
Tim Kaine, who has never turned away from taking practical and progressive positions on tough issues, supports approval of the Comprehensive Test Ban Treaty and new nuclear reductions negotiations with Russia building on the success of the New START Treaty. Kaine supports the goal of securing and retrieving vulnerable nuclear-weapons usable materials worldwide within four years.
As DNC Chairman, Kaine went on the record in support of the ratification of the New START, the nuclear arms reduction treaty.
"This treaty fulfills one of President Obama's fundamental promises by moving the United States an important step closer to a safer, more peaceful, world that is working toward the elimination of nuclear weapons... I hope that we will see a strong and prompt bipartisan effort in the United States Senate to embrace this step forward and ratify the new START treaty."[6]
Confidential memo
A memo detailing the creation and agenda of the
National Muslim Democratic Council
that is marked "CONFIDENTIAL; NOT FOR PUBLIC DISTRIBUTION" was leaked. In the section marked "2012 election strategy" the group specifically spelled out detailed plans to support the Democrats and target Republicans in "key races where American Muslims can make a difference."
According to the document, these races included:
Jamiah Adams
,
Jihad Williams
,
Zeba Iqbal
,
Assad Akhter
,
Mazen Asbahi
, CAIR's
Basim Elkarra
; and
Linda Sarsour
of the
Arab American Association of New York
.
Filibuster reform
The
Communications Workers of America
is to make filibuster reform a top cause and they're trying to bring the rest of the union movement along. The union reiterated that goal in post-election comments.
"The 2012 election makes the reform even more paramount," it said. "Seven Democratic senators-elect -
Tammy Baldwin
(Wis.),
Martin Heinrich
(N.M.),
Heidi Heitkamp
(N.D.),
Mazie Hirono
(Hawaii),
Tim Kaine
(Va.),
Chris Murphy
(Conn.) and
Elizabeth Warren
(Mass.) - have all already pledged to Sen.
Jeff Merkley
, D-Ore., to support rules reform. And Maine's Independent candidate, former Gov.
Angus King
won on a platform included filibuster reform as a major campaign issue.
"The American people want their elected officials to debate and address the major issues of our time and to move past obstruction for obstruction's sake," added CWA Legislative Director
Shane Larson
.
[7]
Asian American Action Fund supported candidate
In the 2012 election, Tim Kaine was supported by the
Asian American Action Fund
.
[8]
JStreet endorsement, 2012
In 2012, the
JStreet
PAC endorsed seven Senatorial candidates, all of whom emerged victorious. The Senate slate, which has more than doubled in size since 2010, included pro-Israel leaders Senate Intelligence Committee Chair Sen.
Dianne Feinstein
(CA), Sen.
Maria Cantwell
(WA) and Sen.
Sheldon Whitehouse
(RI). The PAC also backed winning candidates in some of the most competitive Senate races in the country, raising more than $100,000 each for Sen.
Sherrod Brown
(OH), Rep.
Tammy Baldwin
(WI), Governor
Tim Kaine
(VA) and Rep.
Martin Heinrich
(NM).
[9]
2014
The socialist infiltrated, anti-Israel "two state solution"
JStreet
PAC endorsed several "off cycle" Senators in 2014, including Tim Kaine.
[10]
2016
JStreet
endorsed Kaine in 2016.
Kaine speaks of himself as a Truman Democrat, committed to making Israel a lasting home for the Jewish people that is safe, secure and at peace with its Palestinian neighbors. Kaine is also supportive of an active role for the United States in achieving a two-state solution.[11]
Honduras letter
On Thursday, May 23, 2013, U.S. Senator
Ben Cardin
(D-MD) circulated a Senate sign-on "Dear Colleague" letter to Secretary of State John Kerry addressing deepening concerns about Human Rights and the Rule of Law in Honduras.
The letter states that violence and impunity for state security forces in Honduras has reached intolerable levels and cites concerns related to extrajudicial killings, linkages to death squads, and increasing militarization of civilian law enforcement. The letter also raises the concern that State Department certifications intended to ensure that U.S. foreign aid supports the rule of law in Honduras may contradict the reality on the ground.
The letter asks State Department to:
Sheldon Whitehouse
(D-RI),
Patrick Leahy
(D-VT),
Barbara Mikulski
(D-MD),
Jeff Merkley
(D-OR),
Tom Harkin
(D-IA),
Ron Wyden
(D-OR),
Tammy Baldwin
(D-WI),
Jack Reed
(D-RI),
Mark Udall
(D-CO),
Martin Heinrich
(D-NM),
Debbie Stabenow
(D-MI),
Robert P. Casey, Jr.
(D-PA),
Tim Kaine
(D-VA),
Michael F. Bennet
(D-CO),
Sherrod Brown
(D-OH),
Chris Coons
(D-DE),
Dick Durbin
(D-IL),
Barbara Boxer
(D-CA),
Al Franken
(D-MN) and
Jeanne Shaheen
(D-NH).
[13]
Carlos Mejia Orellana death
U.S. Senator
Tim Kaine
released the following statement on the murder of
Carlos Mejia Orellana
in Honduras:
"I was shocked to learn of the murder of Carlos Mejia Orellana, journalist and marketing director of Jesuit founded
Radio Progreso
in Honduras. My prayers go out to Carlos's friends and family in the El Progreso community that welcomed me as a young student in the 1980's.
"Too often, Honduran officials have dismissed threats and attacks against journalists, and questioned whether the violence was connected to the victims' profession. In Carlos's particular case, police have announced possible conclusions without even the start of an investigation. Premature and speculative judgments cannot be allowed to stand in the way of a thorough investigation. This must not be yet another homicide in Honduras that goes unpunished.
"Honduran police failed to protect Carlos, despite repeated requests to do so from the Inter-American Commission on Human Rights. The police need to take immediate steps to protect Carlos's surviving colleagues at Radio Progreso and its research arm, ERIC, who also live under constant threat."
[14]
Working America
Working America
, the
AFL-CIO
's more than 3 million-member community affiliate for people without unions, celebrated its 10th anniversary 2013. To mark the occasion, Working America unveiled its "50 in 5" initiative to expand into all 50 states in five years, as well as new efforts to organize workers at their workplaces. Said Working America Executive Director
Karen Nussbaum
:
Every day, we talk to people struggling to support their families or piece together a living with their current jobs. These are people who want to see changes in their communities or on the job. This expansion allows working people to make a difference in new states and communities.
AFL-CIO
President
Richard Trumka
said, "Working America is an example of the way the AFL-CIO's door has to be—and will be—open to any worker or group of workers who want to organize and build power." The expansion to 50 states, he said, means that every week, at front doors, workplaces and community gatherings all over America, thousands of people can build power locally.
Along with its expansion efforts,
Working America
will continue its year-round community organizing and electoral and legislative work, as well as pilot different methods of organizing workers on the job. Those models and tactics include a workplace organizing site set to launch in May called FixMyJob.com.
In 2013 , Working America was in a dozen states, including Ohio, Pennsylvania, Minnesota, Colorado, New Mexico, Michigan and Oregon. It recently opened offices in Texas and North Carolina.
Working America
hosted a "50 in 5" launch at the
AFL-CIO
headquarters in Washington, D.C., that included Trumka,
AFL-CIO
President Emeritus
John Sweeney
,
American Bridge 21st Century
President
Rodell Mollineau
, U.S. Sens.
Al Franken
(D-Minn.),
Tim Kaine
(D-Va.),
Martin Heinrich
(D-N.M.),
Bernie Sanders
(I-Vt.) and other guests.
[15]
Middle Eastern trip
In January 2014 fresh off their visit to
Egypt
,
Lebanon
,
Israel
and
Palestine
, Senators
Tim Kaine
(D-VA) and
Angus King
(I-ME) brought their experiences back to Capitol Hill.
Kaine, who serves as Chairman of the Senate Foreign Relations Subcommittee on Near Eastern and Central and South Asian Affairs, led a subcommittee hearing on "Lebanon at a Crossroads."
The hearing included testimonies from
Lawrence Silverman
, Acting Deputy Assistant Secretary of State for Near Eastern Affairs; Major General
Michael T. Plehn
, Principal Director for Middle East Policy in the Office of the Secretary of Defense; Dr.
Paul Salem
, Vice President of the Middle East Institute; and Mr.
Aram Nerguizian
, Senior Fellow and Burke Chair in Strategy at the Center for Strategic and International Studies.
The visit to Lebanon was a first for both senators, who called the country an "overlooked neighbor" when it came to the impact from the Syrian crisis, a point also made by AAI President, Dr.
James Zogby
, last October. In Lebanon, the senators met with government officials and discussed the recent formation of a new government, upcoming presidential elections and U.S. humanitarian assistance to deal with the influx of refugees from Syria, which now make up a quarter of Lebanon's population. The delegation also focused on growing security concerns related to Hezbollah and other extremist groups and discussed the security relationship with the Lebanese Armed Forces.
In addition to traveling to Lebanon, the visit to the region included meetings in Palestine with Palestinian President
Mahmoud Abbas
, Prime Minister
Rami Hamdallah
and Palestinian Authority chief negotiator
Saeb Erekat
. The senators also met with Prime Minister
Benjamin Netanyahu
, Israeli Defense Minister
Moshe Ya'alon
, members of the Knesset and Israeli Justice Minister
Tzipi Livni
to discuss regional security and the Israeli-Palestinian peace negotiations.
In Egypt, ongoing crackdowns on journalists, academics and supporters of the
Muslim Brotherhood
continue, and the recent resignation of the government has prompted speculation that Defense Minister
Abdel Fattah al-Sisi
will run for president. Kaine met with interim President
Adly Mansour
, Minister of Foreign Affairs
Nabil Fahmy
and al-Sisi to discuss Egypt's democratic transition, economic policies and concerns over the jailing of journalists.
Senator Kaine and other members of Congress are also drawing attention to the recent U.N. resolution on aid to Syria. On the Senate floor on Thursday, Kaine showed pictures of barrel bombs in Aleppo and residents awaiting relief in Yarmouk and said that that denying humanitarian aid to the Syrian people is "a war crime, pure and simple." He has pressed for Russia and Syria to ensure aid access and said on Monday that "it is now incumbent on the Syrian regime to allow unhindered access of humanitarian goods to all Syrians."
[16]
Freedom to Travel to Cuba Act of 2015
S 299, the Freedom to Travel to Cuba Act of 2015, principal sponsors are Sens.
Jeff Flake
, R-Ariz., and
Patrick Leahy
, D-Vt.
[17]
By May 20, it had accumulated 33 co-sponsors, including 26 Democrats -
Sheldon Whitehouse
,
Tom Udall
,
Dick Durbin
,
Thomas Carper
,
Amy Klobuchar
,
Barbara Boxer
,
Jack Reed
,
Debbie Stabenow
,
Jeff Merkley
,
Chris Murphy
,
Benjamin Cardin
,
Chris Coons
,
Dianne Feinstein
,
Jeanne Shaheen
,
Sherrod Brown
,
Mazie Hirono
,
Brian Schatz
,
Tammy Baldwin
,
Ed Markey
,
Heidi Heitkamp
,
Jon Tester
,
Claire McCaskill
,
Ron Wyden
,
Tim Kaine
,
Al Franken
,
Elizabeth Warren
,
Michael Bennet
,
Martin Heinrich
.
[18]
Honduras visit
February 2015, U.S. Senators
Tim Kaine
, a member of the Senate Armed Services and Foreign Relations Committees, and
John Cornyn
concluded a three-day visit to Honduras focused on economic and security challenges facing the country, as well as President Obama's proposed $1 billion aid package for Central America. In addition to meeting with Honduran President Juan Orlando Hernandez, the Senators spoke with business leaders, members of Honduran civil society, and U.S. officials working to combat gang violence and impunity and promote human rights in a country that significantly contributed to the unaccompanied minors crisis in 2014.
On Tuesday, Senators Kaine and Cornyn visited two
USAID
-supported youth outreach centers in Chamelecon, one of San Pedro Sula's most violent neighborhoods, with a goal of creating opportunities for Honduran youth by giving them alternatives to violence and crime thereby stemming illegal and dangerous migration north.
On Wednesday morning, Kaine had a special opportunity to return to El Progreso, a small city outside San Pedro Sula where he worked with Jesuit missionaries at a technical school in 1980. After attending Ash Wednesday services at Parquia de la Mercedes, a church he regularly attended, Kaine was "welcomed home" to the Instituto Tecnico Loyola by former Jesuit colleagues and more than 300 current students and teachers. Thirty-five years after he taught carpentry and welding there, Kaine toured the expanded campus and spoke to a school-wide assembly, reflecting on his time in Honduras.
"The school has grown rapidly, but the spirit of the people here is exactly the same," said Kaine. "El Progreso is extremely special to me. Thirty-five years ago, I took a year off from law school to work with a group of Jesuits here affiliated with my high school in Kansas City. My experience working at Loyola taught me the importance of access to skills-based training – both in Honduras and the U.S. – and inspired me to pursue the issue of expanding career and technical education in the U.S. Senate."
While at Loyola, Kaine also visited Radio Progreso & ERIC (the Team for Reflection, Research and Communication), a Jesuit-run community radio station and human rights advocacy organization housed on the school campus.
On Wednesday afternoon, the senators traveled to Soto Cano Air Force Base to visit Joint Task Force-Bravo and meet with Virginia and Texas servicemembers stationed there. JTF-Bravo is under U.S. Southern Command (SOUTHCOM) and supports counternarcotics, humanitarian assistance and disaster relief operations in Honduras and throughout Central America to promote regional security, stability, and cooperation. The senators also had an opportunity to meet with U.S. Department of Homeland Security Assistant Secretary for International Affairs Alan Bersin and U.S. Immigration and Customs Enforcement (ICE) Director Sarah Saldaña, also visiting Honduras this week.
In a meeting with President Hernandez today, the senators shared observations from throughout their visit and sought clarity on how funding proposed in President Obama's FY2016 budget request would complement Honduran efforts to improve security and economic opportunity.
"This is an important moment in the U.S.-Honduras relationship," said Kaine. "As clearly demonstrated during last year's unaccompanied minors crisis, what happens in Honduras has a direct impact on the U.S. We need to scrutinize the President's request for Central America and ensure amounts we approve are spent wisely. But an investment in Honduras is an investment in our shared prosperity."
[19]
The "Jihad" Caucus
In May 2015, a group of 14 U.S. senators, led by Illinois Senator
Dick Durbin
and Minnesota Senator
Amy Klobuchar
, wrote a letter to President Obama urging him to allow 65,000 Syrians into the United States as refugees. This would require a dramatic expansion of the refugee program, and virtually guarantee that a sizable number of ISIS fighters would slip in among them. Frank Gaffney's Center for Security Policy called these Senators the "Jihad Caucus" because practically speaking, Jihad is what this request will bring.
The 14 senators demanding this massive influx of Syrians were:
Dick Durbin
,
Amy Klobuchar
,
Al Franken
,
Patrick Leahy
,
Dianne Feinstein
,
Patty Murray
,
Robert Menendez
,
Sheldon Whitehouse
,
Jeanne Shaheen
,
Chris Coons
,
Tim Kaine
,
Ed Markey
,
Sherrod Brown
, and
Mazie Hirono
.
These same 14 had sent another letter in April Demanding action on the Syrians.
[20]
Arab American
Arab American Association of Central Virginia
activists with Senator
Tim Kaine
at
Standing Together
event, hosted by
Virginia Center for Inclusive Communities
, January 10, 2016.
ARA connections
Tim Kaine is very close to
Virginia Alliance for Retired Americans
.
Inaugural meeting
Tim Kaine addressed the inaugural meeting of
Virginia Alliance for Retired Americans
, January 31, 2012.
ARA endorsement, 2012
The
Alliance for Retired Americans
endorsed Tim Kaine in 2012.
[21]
2012 meeting
July 25 VARA meeting
July 2015.
External links
References
Washington Report on Middle East Affairs, November 2001, page 88 Bombing, Discrimination Hot Topics at AAI Virginia Candidates' Night
Muslim Brotherhood Daily Watch. Governor Of Virgina Apppears At Event With Founding Father Of U.S. Muslim Brotherhood By gmbwatch on October 12, 2011
Gilbert, Athey criticize Kaine: Delegates - Ties too close By Garren Shipley -- Daily Staff Writer.October 23, 2007 edition of the Northern Virginia Daily]
http://www.aaa-fund.com/candidates/Asian American Action Fund]
Cardin Press release, Cardin Leads Senate Call For Accountability In Honduras For Human Rights Violations Tuesday, June 18, 2013
[ http://www.kaine.senate.gov/press-releases/kaine-statement-on-the-murder-of-carlos-mejia-orellana-in-honduras TK Press release, KAINE STATEMENT ON THE MURDER OF CARLOS MEJIA ORELLANA IN HONDURAS Wednesday, April 16, 2014]
http://www.aflcio.org/Blog/Political-Action-Legislation/On-10th-Anniversary-Working-America-Sets-50-in-5-Goal, AFL-CIO Now, On 10th Anniversary, Working America Sets '50 in 5' Goal 2COMMENTS04/17/2013Mike Hall On 10th Anniversary, Working America Sets '50 in 5' Goal]
AAISenators Tim Kaine and Angus King take on the Middle East POSTED BY ON FEBRUARY 28, 2014 IN BLOG By Marc Sabbagh Spring Intern, 2014
[ http://peoplesworld.org/cuba-travel-bill-advances-in-the-senate/PW, Cuba travel bill advances in the Senate by: Emile Schepers May 20 2015]
[%22S+299%22}, Congress.Gov. S.299 - Freedom to Travel to Cuba Act of 2015114th Congress (2015-2016) | G]