I woke up today expecting a PC and I got one and I had a hard time pushing the box inside. I couldn't find the activation code, but it was in back. It is a Athlon 64 X2 4800 and I overclocked it 200 MHz. It came with Windows with Nero, PowerDVD, RealTek sound equalizer. I had a heck of a time plugging in IDE cables into both DVD burners when switching them to different bays since it was easier than taking a sliver tool to remove and reset the jumpers differently. After that I installed a lot of software including Suse Linux. Haven't installed any games, but you bet that I'll install some tonight and test my new videocard. The RealTek codec sounds very good better than the Sound Blaster Audigy 2 in my opinion. This is only temparly until my sound card comes in 3 days or so. On the Suse Desktop the sound is a little distored, but until Monday or Tuesday when the Turtle Beach Montego DDL this problem will disppear! I was looking at Ultima Linux, but realized that I like Suse 10 better just because I been using it since 2002.
By the way, I figured out you can play MP3/WMAs in a videogame off a thumb drive on Xbox 360 by pressing the controller's power button.
Suse 10 running on it.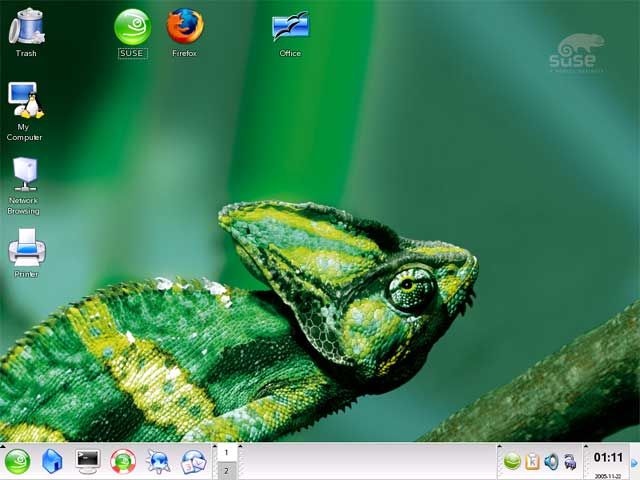 Number of fans
* back case fan
* case fan on the window
* 3 case fans on the right side near the front
* PCI fan card (2 fans)
* CPU fan
* GPU fan
* motherboard fan
AMD Athlon 64 X2 4800
- two CPUs overclocked at 2.6 GHz
250 GiB Serial ATA 7200 RPM hard drive
Windows XP Pro service pack 2 Turtle Beach Montego DDL
OpenSuse Linux 10.1 Beta 1 X86-64 (4 GiB partition).
BFGTech Geforce 7800 GTX OC 256 MB GDDR3
- 460 MHz
- 41 GB/s texture bandwidth
Drive 1 Sony Q28a 8x DVD Burner (DL 4x)
Drive 2 OptoRite DD0401 8x DVD burner (w/o DL)
- 1024 MB Kingston Hyper X PC4000 DDR
- DLink 108 Mbit Wifi PCI card
- 1 Gbit RJ-45 intergraded LAN
- Turtle Beach Montego DDL (sound card) PCI
* Dolby Digital 7.1 surround
* EAX 3.0
- transparent windowed case with lights
- RealTek 7.1 Surround Sound codec.
- Cyber Acoustics 4.1 Surround Sound Speaker System
- Vantec Spectrum PCI Fan Card with Blue UV LED (shipped Saturday)
- 550 Watt Ultra Power Box
- Logitech Lazer Mouse