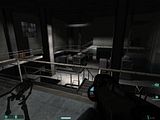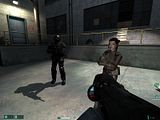 Playing F.E.A.R this time on my SysteMax Hellcat. Gamma correct antianalysing is off which is why the screenies are so dark!.
Goriest PC game ever! That's right. I'm not scared....lol....wait, ayup i'm scared to the point i stop wearing earphones half the time. This game and The Grudge have close ties. First Person shooters at it's best!
Did I mention PC games are on a decline? I'm pretty updated game wise...although consoles are suppose be better for some reason. Game Informer issue had an article about PC gaming declining. I refuse to believe it. They're lying! PC gaming is at it's height of popularity in 2006!
Randy didn't come over! I'm out of cash because i spent it on a Sega Dreamcast and Mega Man X Collection. Next month I believe I'll buy a brand new Xbox in case my current one dies.