SuSE 10.1 release date is May 11, 2006. It's going to boot up faster and look professional doing it. Even though I can't play PC games in it....I can look great using Firefox, kopete and amarok in my stylish
Software- und System-Entwicklung
. No, I don't speak German….I found it just like I find many things (ps you can buy it at Best Buy…oops I said too much). I found it interesting SuSE saves files on USB mass storage devices, but not NTFS partitions without user input. The terminal command "chmod 700" doesn't change anything! I download everything in Windows so I am not bothered much. CCleaner is a very good windows registry cleaner.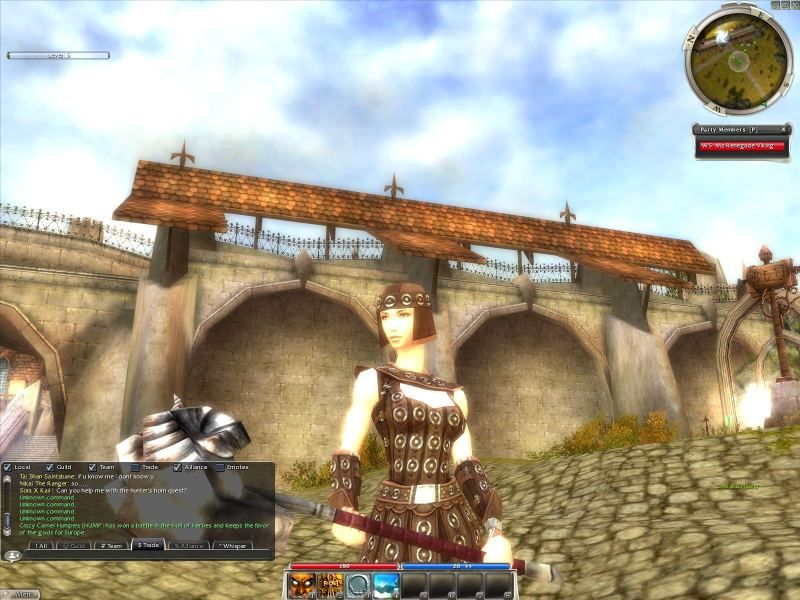 Guild Wars Factions starts at the very beginning of the first game
.
One thing I learned from Guild Wars is once you join a guild, it's very hard to quit the guild in case it goes different ways. Like ESIV you can do anything you want too.
I drove to Target and bought Guild Wars Factions instantly in 5 minutes. I'll install it later coz right now I was playing Elder Scrolls IV. I think it was awesome because I own Guild Wars and played that for 2 weeks online. I'll go online and play test it and see why the reviews are right. In Elder Scrolls IV, I got to the first oblivion gate (really easy) and a knight comes up to me and said "go to jail unless you paid." I fought this knight and won, stripped him down and got all his gear. Now I look like some tough lady riding on a horse. If you attack horses, they attack you. The game has hiccups like the reviews say. It bugged me so I reduce the resolution to 1280x1024 because the monitor is downing the signal. Another way to do it is keep the resolution at 1600x1200 and turn off any anti-analysing. The results would be the same. There is so many polygons on screen that ESIV looks antianalysed. The oblivion gate makes the Emperor's knights go nuts and they attack me. I could run away until it wears off. The game is cool, I just think it makes everything obsolete by comparison. Personal opinion
Not surprising my next videogame is going to be New Super Mario Bros. It's like a 2D sequel to Super Mario World (retro maybe, but IGN gave gameplay a 10/10 calling it revolutionary.) I'll have to decide that for myself. NSMB is coming out next week.