http://blogbeebe.blogspot.com/2008/11/opensuse-111-rc-and-kde-41.html
http://blog.taragana.com/index.php/archive/11-prime-features-of-opensuse-111-a-comprehensive-review/
You know I had OpenSuse 11 on my PC and the only problems I had was it had slow USB transfers to thumb drive, it crashed a few times (but always recovered in under 10 seconds) and the last few times, didn't recognize my mouse and keyboard! :(
The 2.6.27.7 kernel has the much needed improved filesystem (UBIFS) optimized for pure flash-based storage devices.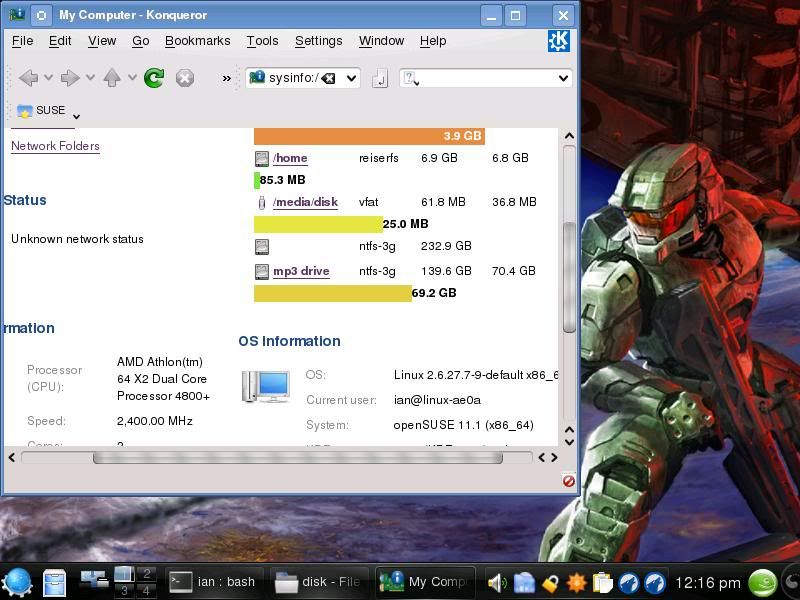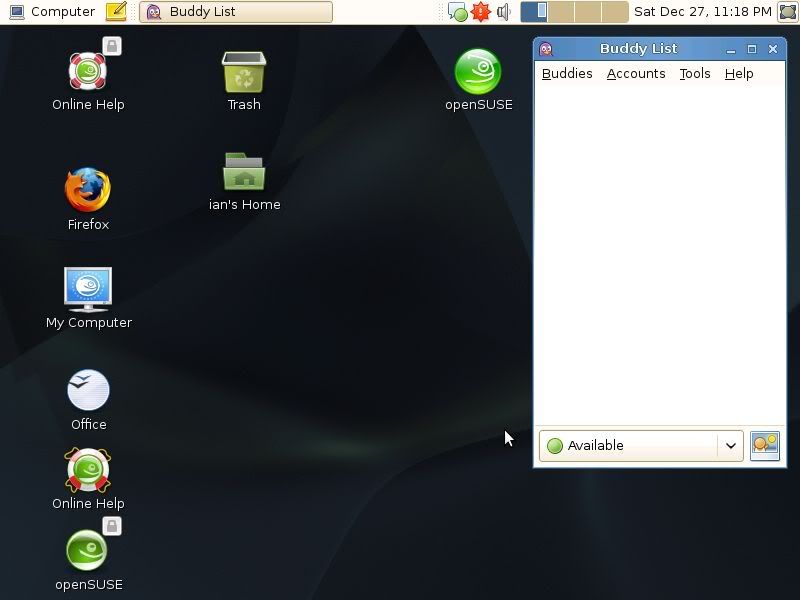 openSUSE 11.1 will roundhouse kick the competition!
I give the OpenSuse 11 Linux a 8.5 out of 10. I only used it like 6 times and one was to backup a locked Windows session. I downloaded a lot of MPEG4 and Games and succeeded.
KDE 3.5.7 and 3.5.9 were so much faster than KDE 4.0.4 too. No latency at all in the 3.5.x series.
I feel old...I have 2.6.27.7 kernel now. I remember using the Redhat 7.1 days of 2.4.18 kernel in 2003 in High School.
'It was my schizophrenic friend'. At least that's what the UNIX guy said
. Did I mention I feel old
Quickpost this image to Myspace, Digg, Facebook, and others!
You know that NASA is running Suse 9.3 Enterprise on their super computer and it's one of the top 5 supercomputers.
Some more reasons to love OpenSuse 11+ over Fedora 7+, because Rasmussen is supporting some ancient version of Linux, Fedora 2 (ie: around when Suse 9 was coming out and the British were winning American Revolutionary War). OpenSuse is still most noob friendly Linux, and that's how I like it. I'm a Microsoft guy in case you can't tell. This distro's KDE 4.1.3 and Gnome 2.24 support MESA video drivers over the inferior NV ones so the shell boots in no time and runs 4x faster once it boots up with OpenGL 2.1 enabled. 3D Linux games are playable for the first time. Fedora 10 still has those low end NV drivers and is said to be slow, because of those NV drivers.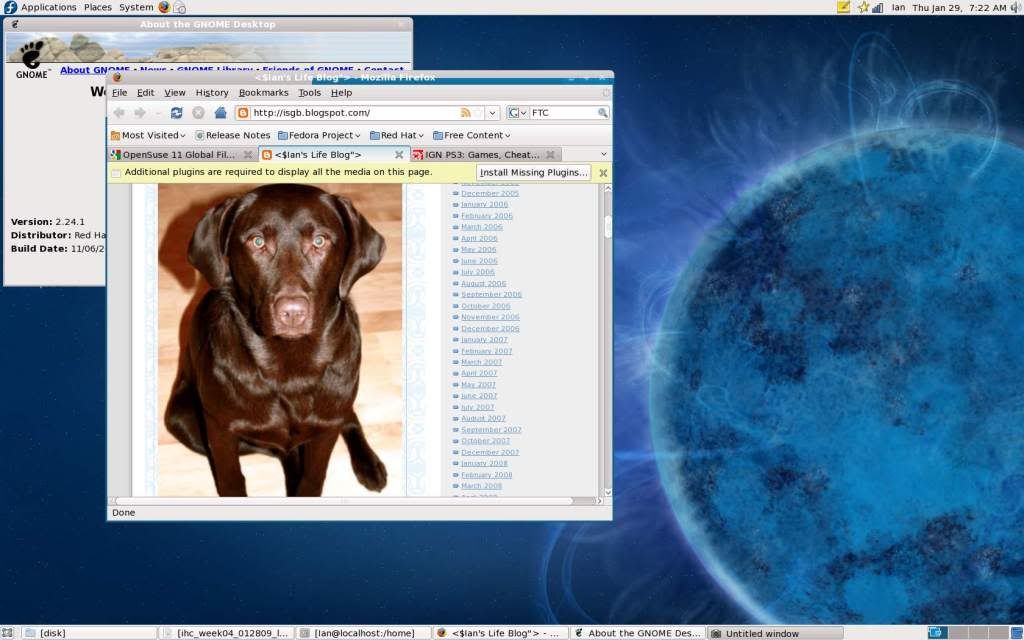 Because I can. Can't wait until BTRFS (ReiserFS 5.0) in Fedora 11. Everything is a bit jurky in Fedora 10 and it won't let me change to EXT4 without stalling.
===================
game update (bought 2 games)
Prince of Persia for PS3, Kingdom Hearts Re; Chain of Memories (always wanted the GBA game) and on the Dec. 10th, Persona 4 (got 9.4 on IGN for some reason)
No to mention the Castlevania: Order of Ecclesia and GoW2 Xbox 360 two weeks ago. Gamelist is in May 2008 archive.
Found out what the Xmas presents were:
Canon EOS Rebel XSi DIGIC 3 12 MP camera
Sony-KDL-32XBR6 1080p TV 32"
Phillips Bluray 2x burning speed SATA /w 50 GB BDR and jewel case
1 TB SATA hard drive to replace my dieing one
250 GB 2.5" HDD for PS3
Men's Merrell Moab GORE-TEX® XCR®
used 2006 Lamborghini Gallardo paid for by my buddy, Bill Gates.