I have this PC that rejects OpenSuse 11.4, but accepts Ubuntu 10.10. Ubuntu 10.10 runs very stable. It reads my WiFi doogle. Linux Mint is good, because it is based on Ubuntu and packaged with much more software. It suppose it comes with the whole slot of Gnome games. I really needed the games installed. I could have done music with Winamp and VLC with the aid of Crossover Linux 9.1 (installed). One of the most advanced security systems from OpenSuse,
AppArmor
, made it to Mint so I can use it. Linux Mint is running 2.6.38.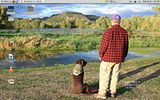 Mother wanted to try more than 4 games in Ubuntu so upgraded to Linux Mint on her PC. She usually plays Klondike, Sudoku, Mahjongg and TextTwist 2. She hates Quadrapassel ).
In other events, I find playing Super Mario Galaxy very difficult. I was caught by surprise that it was as hardcore. I kept dieing with the second solar system. Times have gotten hardcore since Super Mario Sunshine (played in 2k2).