To fill you in, I've called Nikki back at her house (whom was supposed to meet me by Subway last Tuesday) and she was going to a coffee shop by Target. Problem is I didn't know there were two Subways in town. That's my fault. So on Friday morning, I woke up an hour before noon and drove 15 miles to Hudson, walked inside the coffee shop. Before I did, I did a little trim work on my beard so I would look better than most days.
Well, Nikki was wearing one of them skirts with long see through socks. Her personal appearance didn't look bad at all. She's taking chemistry at UofW River Falls. So I asked her if she is an alchemist. She didn't fancy that in a good way. So I told her she was good looking, and I never sat by a woman my age since who knows when. She smiled which kept me from leaving. Then there was a group of other people in the corner chatting a way, bugging me because I hate talking those who disturb my thinking patterns in public and people's eyes also wonder (mine too). Regardless, I've shown her cat pictures, dog pictures, computer room pictures, flute pictures via Playstation Portable's LCD and also showed her Lumines and suggested she play it. Nikki refused to play it because she said she doesn't play videogames. The trance music I had on PSP also made a negative impact. Yeah, now everyone in the shop knows I like that music which probably had more negative than positive impact on my charisma. O-well. She said after 5 years I hadn't changed much intellectual wise. I didn't know if that was a complement or some way to tell me that I was the unwise teenager she use to know. I didn't respond. I'm wise enough. She looked like she was doing high grade algebra in that math book. I was getting wary if that meant something or not.
Oh, I was thinking what my Sim would do in this case? Unlike in The Sims 2, I didn't flirt with her, had no reason too. I tried to explain to her how you play a Playstation 2, and what "role playing game" is. Battle scenes in RPGs are hard to describe. She knew that Magic was role playing. I hate Magic the Gathering & have neither played nor want to learn to play it. I may have sounded silly explaining why a few games like Diablo 2, Half-life 2 and Gran Turismo 4 got high scores via internet reviews. I shall have brought screenshots of role playing games like Final Fantasy X which would have helped immensely. Well, it's not important now. I can't imagine anyone who hasn't seen a RPG videogame, but I can't assume she knew how to play PS2 already and didn't admit it. If she was lying…that would make me very angry, because it sounded like she was lying about not being involved in videogames too. I've decided it won't hurt to go along with it a little bit longer.
Any woo, I kept starring at her thin (athletic) legs when I rubbing my chin in thought as I was trying to avoid saying "Your legs are pretty". . She's not the prettiest woman, but decent looking none-the-less. She doesn't get on the Internet that often so she's not that great with computers. I'm a computer technician, and I tried explaining that my classes, I was typing commands in the terminal (she didn't know what that is), but I did mention Linux to her. I said it looks like Windows with minor differences. She didn't know what Linux looked like. I told her that I miss everyone at high school, and I want to meet them. I'll meet her again tomorrow perhaps. There is one thing I couldn't figure out….what kind of date does someone do homework?
Saturday, I went to town to buy Gran Turismo 4 again. The funny part is I didn't wait because my parents didn't want me to call Josh again. I've spent $100 on Gran Turismo 4 and only $20 on Gran Turismo 3. I wanted that game back so I could play it, but Saturday was a complete waste of time. I won't complain. I've constantly thought about the missing DVD.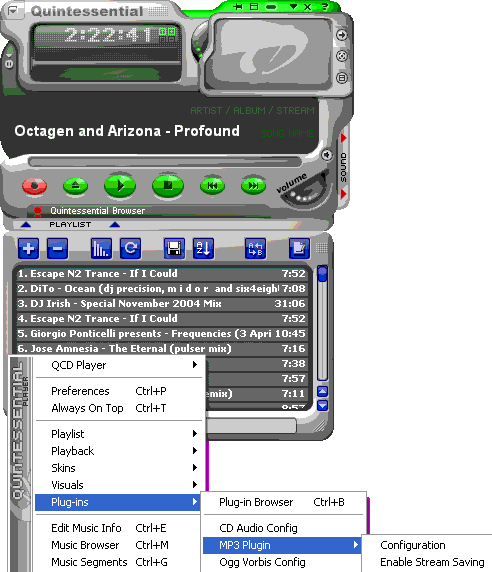 Shoutcast via Quintessential Player 4.51
I didn't do much other than listen to Shoutcast's Digitally Imported (24 kbps MP3 stream version) on Quintessential Player while I "enabled stream saving." Playing MP3s off my hard drive saves a lot of through-put over the 56k modem. It stands in for live audio channels, and the result is you'd get much higher quality sound off your hard drive than you would with internet radio. QCD will not overwrite mp3 files which stream twice or more which doesn't make me mad, it has never happened to me yet. It would take me 20 seconds to delete them otherwise.
Oh yeah, I've been playing Lumines, a well designed
square Tetris
game for PSP. I've paid $40 for it. That makes two PSP games within the first week of ownership! The game has 16-bit dance music I've heard this on my MP3 player, but not on a handheld platform since Wipeout Pure. It's a vocal one, and I don't mind it, Lumines is addicting. I've made it to level 7 before
Game Over
. There are many skins you'll earn, but I'd rather it play more than 1 song each 4 levels. The trick is to drop the squares when the squares below disappear so more squares disappear and bumps up the score.
I was looking at the screenshots of Dolwin (Gamecube emulator) at http://dolwin.emulation64.com/ and have been wondering where I could download the GCMs (Gamecube Media) file format? I've found this site called http://ngc-isos.de.vu/ where I can download GCM files if I download that kind of data. When I get Wildblue broadband, I'll download a whole game and see if it works on the emulator. I believe the emulator is slow because I haven't installed Direct X 9.0 which DolWin 0.10 requires to run at 100%. Some ways, I don't see the need to emulate. I have a Gamecube, and I don't play it often anymore, and own 31 game cases (with more games) for it. Personal computers today don't have the processing power to make Gamecube games run at 100%. It'll be another couple years before we achieve 100% emulation. It's much like how Nintendo 64 games run at 100% since 2002 depending on what the graphics resolution is at.
Dolwin running Pong demo on my computer.
It was another one of those sleepless nights. Last night I watched Sinbad - The Sailor (old movie from 1947) on the American Movie Classics channel. The movie wasn't very violent which made it some ways uninteresting according to my tastes in films. I could tell that all the sets were fake did wondered why Sinbad mentioned Aladdin and his lamp. I've thought Disney just made that movie up…didn't realize it was actual myth. The stars weren't even Arabic; they were pure white or Caucasian like me. Is the movie racist or not? Shall I even care? I'm use to seeing mostly white people on TV so I am well aware we're not in control of the world like centuries ago. I might as well be racist to terrorist because I hate their guts. However, that doesn't change the fact I've been born into a race which historically had done many of man's greatest achievements. With everyone created equal under the constitution, whites shall know what we're categorized as.
This has nothing to do with Spanish-Mexicans trying to live in our country illegally. I don't know anyone who
isn't
pissed off at the government which hasn't found a solution to the problem yet. A wall blockade between us and them would be unconstitutional according to Mexican President Vicente Fox. I don't give a shit what he thinks. Let's leave it as that. The ironic thing is I visited Cozumel, Mexico just 12 miles off the coast of the Yucatan Peninsula in 1999 and went scuba diving there at a nice resort (first and last time too). I saw a passenger plane wreak underwater. Americans vacationing in Cozumel enjoying the tropics, clear skies, and white beaches would drastically decrease as result of wall blockade. Vacation spots are Mexico's key argument to convince Americans to vote for keeping the southern geographical boarders open.
Videogames to add to the big list
• Lumines
Bye.