I bought a HPI Racing Savage XS Flux. I know my cousin had a nitro Red cat RC when he was 10. Now I finally have my own.
I was supposed to break this in on top of a box for 2 charges.
Features:
TF-40/RF-40 2.4Ghz radio
SF10W waterproof servo
Waterproof receiver box
Vapor Pro waterproof brushless ESC
Vektor 4000Kv 1410 4 Pole brushless motor with cooling fan
Fits standard size 1/10th scale electronics
Silicone oil filled shocks with threaded bodies
All-metal bulletproof drivetrain
2.2" wheels and tires (can use most 1/10th scale truck wheels and tires)
Shock towers have multiple shock mounting positions (2)
Quick access to the front or rear differential by removing just 4 screws
Cam type servo saver
Spacious battery box w/locking battery box door
All socket head hardware
Dual pad slipper clutch
Full set of ball bearings
Aluminum motor plate with 4 motor mounting positions
Aluminum hex hubs
TVP (Twin Vertical Plate) chassis
Integrated chassis carry handle
Tough 4-gear differentials
Aluminum front and rear suspension braces
Stainless steel bulkhead lower plates
Front and rear skid plate bumpers
Specifications:
Length: 360mm
Width: 280mm
Wheelbase: 225mm
Needed to Complete:
2S or 3S LiPo Battery & Compatible Charger
AA Batteries for Transmitter
I heard many stories on user reviews where a 3S LiPo battery will fry the motor so likewise bought 2S LiPo battery and charger.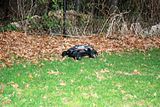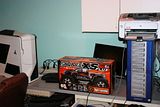 My 4000 Mah 2S battery should still work! It should run slower.
Pro reviewer
homepage