Correction: I have 59 PS2 games instead of 58. I am missing Grand Theft Auto San Andreas. However, it is photographed in my last PS2 picture
This is pic high resolution enough? If not click on this link...
Really High Resolution Version - for the high bandwidth bloggers!
JPEG size - 220K
Very high resolution Xbox collection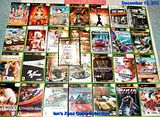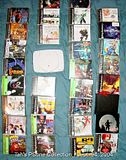 -------------------------------------------
Collection List
-------------------------------------------
Playstation 2
1.) Star Ocean 3 - Till the End of Time (Director's Cut Version) (RPG)
2a.) Mega Man (Mega Man Anniversary Collection) (A)
2b.) Mega Man 2 (MMAC) (A)
2c.) Mega Man 3 (MMAC) (A)
2d.) Mega Man 4 (MMAC) (A)
2e.) Mega Man 5 (MMAC) (A)
2f.) Mega Man 6 (MMAC) (A)
2g.) Mega Man 7 (MMAC) (A)
2i.) Mega Man 8. (MMAC) (A)
2j.) Mega Man Battle (MMAC) (A)
2k.) Mega Man Battle 2 (MMAC) (A)
3.) Jak and Dexter (APL, A)
4.) Castlevania - Lament of Innocence (S, A)
5.) Jak 2 (APL, A)
6.) Rachet and Clank (APL, A)
7.) Rachet and Clank 2 - Going Commando (APL, A)
8.) Gran Turismo 3 A-Spec (RA)
9.) Final Fantasy 10 (RPG)
10.) Final FAntasy 10-2 (RPG)
11.) Rayman 3 - Hoodlum Havoc (PL)
12.) Tekken 4 (F)
13.) SSX 3 (SP)(RA)
14.) Breath of Fire 5 - Dragon Quarter (RPG)
15.) Xenosaga Episode 1 (RPG)
16.) Soul Caliber 2 (F)
17.) ESPN Football 2K5 (SP)
18.) Grand Theft Auto 3 (RA)
19.) Grand Theft Auto Vice City (RA)
20.) Summoner 2 (RPG)
21a.) Virua Fighter 4 Evolution (F)
21b.) Virua Fighter (F)
22.) Ridge Racer V (RA)
23.) Devil May Cry (S, A)
24.) Toyko Extreme Racer Zero (RA)
25.) Toyko Extreme Racer 3 (RA)
26.) Twisted Metal Black (RA)(S)
27.) Suikoden III (RPG)
28.) Ace Combat 04 (MJS)
29.) Winning Eleven Soccer 6 (SP)
30.) Winning Eleven Soccer 7 (SP)
31.) Madden Football 2002 (SP)
32.) Disgaea Hour of Darkness (RPG)
33.) Kingdom Hearts (RPG)
34.) Metal Gear Solid 2 Sons of Liberty (S, A)
35.) Ico (PUZ)
36.) MidNight Club (RA)
37.) MidNight Club 2 (RA)
38.) Thunderstrike (S, A )
39.) Onimusha 2 Samurai's Destiny (AF, A)
40.) Onimusha 3 - Demon Siege (AF, A)
41.) Soul Reaver 2 (AF)
42.) Dark Cloud (RPG)
43.) Dark Cloud 2 (RPG)
44.) Grandia Xtreme (RPG)
45.) Arc the Lad 4 - Twlight of the Spirits (RPG)
46.) La Pucelle - Tactics (RPG)
47.) Phantom Brave (RPG)
48.) Wipeout Fusion (RA)
49.) Shadow Hearts 2 - Covenant (RPG)
50.) Sly Cooper and The Thievius Raccoonus (APL, A)
51.) Gradius V (S. A )
52.) Grand Theft Auto - San Andreas (RA) (S)
53.) Guilty Gear X (F)
54.) Fatal Frame 2 Crimison Butterfly (Director's Cut version) (SH, A)
55.) Metal Gear Solid 3 Snake Eater (S, A)
56.) Guilty Gear Isuka (also Guilty Gear X3) (F)
57.) Jak 3 (APL)
58.) Ratchet and Clank Up your Arsenal (APL)
59a.) Growlancer II (Growlancer Generations) (RPG)
59b.) Growlancer III (Growlancer Generations) (RPG)
Xbox
1.) Halo Combat Evolved (FPS)
2.) Silent Hill 2 (SH, A)
3.) Colin McRae Rally 04 (RA)
4.) Prince of Persia: Sands of Time (A, PL)
5.) Genma Onimusha (F, A)
6.) Elder Scrolls 3 - Morrowind Game of the Year Edition (RPG)
7.) Crimsin Sea (RPG)
8.) Moto GP (RA)
9.) Rallisport Challenge (RA)
10.) Rallisport Challenge 2 (RA)
11.) Dead or Alive 3 (F)
12.) Project Gotham (RA)
13.) Project Gotham 2 (RA)
14.) Jet Set Radio / Sega GT 2002 Combo DVD (RA)
15.) Shunmue 2 (RPG)
16.) Nascar Thunder 2003(RA)
17.) Balder's Gate Deadly Alliance (RPG)
18.) Tony Hawk's Pro Skater 3 (SP)
19.) Tony Hawk's Pro Skater 4 (SP)
20.) Unreal Champtionship (FPS)
21.) Dead or Alive Extreme Beach Volleyball (SP)
22.) Panzer Dragoon Orta (S, A)
23.) Fable (RPG)
24.) Ninja Gaiden (A, F)
25.) Tony Hawk's Pro Skater - Underground (SP)
26.) Halo 2 (FPS, A)
27.) Guilty Gear X2 Reloaded (F)
28.) Splinter Cell (S, A)
Tomorrow is the last day of school before Christmas Vacation. In Human Relations I have gotten a 95% on my success journal – my highest grade in the whole class. Tomorrow is my conversation with the school which will determine where I'll be next year in terms of classes. Pretty basic I think. Anyways, it will be interesting what the teachers will say about me. I am in fact a registered student of the school and shall be there very day even if this means I will have to do Cisco over again. The problem is there will be new students in the next semester thus I will not be able to befriend any body I met in this class. For example, I was invited to a PC LAN party at school this Thursday, where all the Cisco class will get together and play Halo (PC version) or UT2004, or Diablo 2 and have a good time. Well these good times will not last. Problem is I do not know these students well, and while I haven't got mad at them for knowing more than I do in networking, they do know I am not very talented when it comes to networking. I am one of those people who aren't in love with old games. With the exception of Halo 2 for Xbox, the LAN party may be playing old games, which is not my preference. My point is I hope I have a good time fragging everyone hopefully without too much profanity.
My newest game is
Growlancer Generations
for PS2. It is a RPG from Japan and the anime on the over is a dead giveaway that unless you're into Anime in general - most people will not buy this particular game. If you look past the anime aspect, you get a well made RPG made by Game Arts who also makes Grandia. Growlancer is one of those games that keeps the oldschool look of games - and only uses 3D for effect. I haven't opened it yet.